Welcome to Grace Christian Fellowship!
We are glad you are here!
Grace Christian Fellowship is an international evangelical fellowship of believers in Christ located in beautiful Ome on the far western edge of Tokyo.
We meet every Sunday morning at 10am.
We also have an evening service starting from 6pm.
Please connect with us on Facebook, Line, or YouTube!
We look forward to seeing you soon!
Sign up for daily devotions using this link:

Announcements
・Our service will start from 10:00 am. You can also join our services through Facebook and Youtube.
・There is a new bible study channel on YouTube for children. Please check 「キッズバイスタ」 and check this out.
・We prepared Baby room on second floor with monitor and we have re-started our Sunday Toddler School from Aug
.
・Tithe:You can also use the electronic giving solution at http://bit.ly/GCFGive
Who we are

As of this Spring, we are celebrating 20 years as a church in Ome! Praise God!
Grace Christian Fellowship is a body of believers made up from all different backgrounds–Japanese, American, Canadian, and Australian–all united to worship Christ and make Him known in Japan! We believe God has called us for His purpose here, and whether you are from Japan, temporarily living in Japan, or you are just wondering about Christianity, we invite you to join us as we gather throughout the week.
We believe that God speaks to us through His word, the Bible; therefore, we strive to faithfully teach his word chapter by chapter, verse by verse, week in and week out.
We have plenty of ministries for you and your family to have an opportunity to serve the Church and learn about God: Sunday Morning Service, Sunday Evening Prayer and Praise, Children's ministry, English Cafe, Men's prayer breakfast, and VBS. Of course, like many churches some of our programs are on hold for COVID. We invite you to pray with us for God's continued healing and restoration.
Statement of Faith
WE BELIEVE in Jesus Christ, the eternal Son of God as the only Mediator between sinful humanity and a holy God. We believe a person is saved by grace through faith in Jesus Christ, His death, burial and resurrection.
WE BELIEVE the Bible to be inspired, and the infallible authoritative Word of God. Therefore, expositional Bible teaching is of extreme importance.
WE BELIEVE that the true basis of Christian Fellowship is God's love, which is greater than any differences we may possess.
WE BELIEVE worship of God should be a spiritual experience and be both intelligent and fruitful. Therefore, we remain flexible and yielded to the leading of the Holy Spirit to direct our worship. Thus, a prominent place is given to music that is honoring to God.
WE BELIEVE that our faith should lead us to win people to Jesus Christ, disciple people in Jesus Christ, and send people for Jesus Christ in obedience to Christ's great commission.
Jonathan Wilson, Pastor
Pastor Jonathan Wilson is from the United States and was born in Oregon. He has been serving as a missionary in Japan for over 30 years.
Tom Cotton, Assistant Pastor
Tom Cotton is an Australian living in Japan with his wife Chika from Osaka and their two young children. He has a passion for the Gospel, discipleship, and healthy churches.
Enter a short video interview . SECTION UNDER CONSTRUCTION
Ministry Opportunities: Serve With Us

English Cafe
There is a huge opportunity for native English speakers to minister in Japan just by sharing a cup of coffee and practicing English conversation with our neighbors!
Children's Ministry
Ome is home to many young families. One of the biggest ways to serve our community is through Grace Christian Fellowship Children's program.
Over the past year, a lot of work has been done to create Bible study videos for children. Check out the Kid's Bible Study 「キッズバイスタ」on Youtube!


Vacation Bible School
Yearly as a church we put on a Vacation Bible School for the children in the community. It takes a lot of volunteers and hard work, but it has a massive impact in the life of the church! This year due to COVID we had many volunteers help to create an online VBS. Find out how you can help!

Men's Prayer Breakfast
The men of the church meet monthly on the second Saturday morning at 8 AM to fellowship, study the Word, and pray….and of course bacon!
Ladies Bible Study Groups
Throughout the week, the women of the church meet for prayer and Bible study. Some meet via zoom, other's meet at cafes, and yet others on Yokota AB along with the PWOC.


Engage the Community!
God has placed us here in our community–not only in our church community, but also in our local community. We want to reach out to our community in a variety of ways! As a church, we look for opportunities to outreach in the parks, have BBQs by the river, or just invite our neighbors ever for dinner. Come be a part of this movement!
Messages
Listen Online
Due to the on going pandemic, we have provided access to view messages live online via Youtube, Facebook, and Twitch at 10 AM every Sunday morning. We ask that if you are experiencing any sickness or COVID-like symptoms that you remain home or seek medical treatment. Please let us know how we can pray for you.
Current Message Series

Listen to the latest sermon here.
Sunday Evening Series

Listen to the Evening Message here.
COVID Measures
Dear Church,
We have been doing livestream the church services and have reopened the church. Here are some important announcements.
1. Livestreaming will continue.
Please don't come to church if you have symptoms, or if you have anyone vulnerable that you live with that you do not want to put at risk. You can continue to join us through the livestream on Facebook, Twitch or watch at your convenience later on Youtube.
2. Reopening Church:
We took many precautions and made many changes to make worship safe again for everyone to join. Some of the measures will include,
a. Temperature Checks – we will scan each person with an infrared thermometer. Unfortunately we will not be able to let anyone with a fever enter so please make sure that you don't have a fever before you come.
b. Face Shields – we will provide Face Shields and sanitize them after each use. Churches are susceptible to spreading infection because we spend a longer time together than other shops or restaurants. We also sing as we worship so the face shields are a better option than masks.
c. Seating – we will keep all of the chairs 1m apart and ask only family groups to sit together.
d. Baby room moved upstairs – the baby room is too small and has no ventilation so we are providing a monitor upstairs in a larger classroom for families with small children.
e. Communion – we have changed the manner in which we do communion so that there is no contact and each element is in a separate container.
f. No Loitering in Entryway – when you enter after the temperature check please move quickly to your seat instead of chatting in the entryway.
g. Fellowship Verse – instead of walking around to greet everyone we will only greet the people in adjacent chairs.
h. Fellowship Meals – we still won't be able to have curry, sandwiches or love feasts but are thinking about snacks and coffee outside in the parking area on days without rain.
i. Small Groups and Prayer – make sure to meet together with 1m distancing, wearing face shields and in rooms with two windows opened for ventilation.
We still have many things to think through and will make adjustments as we go along regarding children's ministry, VBS and school.
3. Tithes and Offerings
Please continue being faithful to give your tithes, either dropping them off at the church or using the electronic system. Because of all of the coronavirus changes that we need to make changes we are spending money on some new equipment and supplies. Please consider making a donation to help pay for these expenses.
Blessings,
Jonathan Wilson
Pastor
By Train:
From Tachikawa Station, take the Ome Line (usually platform 1, 2, or 6) to Kabe Station. (~29 minutes)
From Fussa Station, take the Ome Line on platform 1 to Kabe station. (~8 minutes)
After arriving at Kabe Station, take the North Exit, turn right down the stairs, and walk about 500 meters along the north side of the train tracks until on an overpass. Turn left in front of the "Cut Shop Heart" barber shop and walk along the frontage road 100 meters. Grace Christian Fellowship will be on your right. (~8 min)
If you walk by Yellow Hat, you have gone too far!
Walking from Kabe Station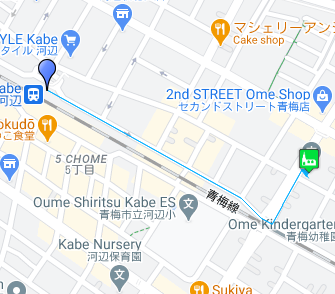 By Car:
From Yokota Air Base Gate 5 turn right onto Route 16. At the next light (Higashi Fussa Station Entrance), turn left and drive about a quarter mile (you will cross the train tracks). Turn right onto Route 249. You will stay on this for 3 miles (5 km) passing the Hino factory on the right. When you arrive at an intersection with a Suzuki dealership on your right and a Cainz Cycle Park on the opposite corner, turn right. Travel about a half mile (800 meters) until you see a Yellow Hat store on the left, a Domino's Pizza on the right, and a blue foot bridge over the road. Make a left hand turn. Grace Christian Fellowship is about 100 meters on the left.
There is limited parking in front of the church. If all of the spots are taken, please park at Wakagusa Park.
From Route 249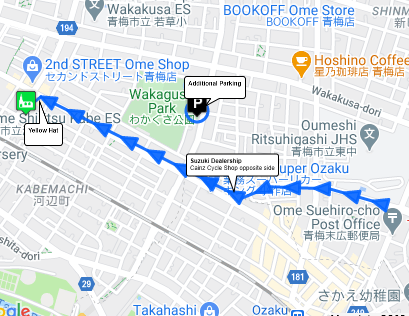 Please fill out the form below if you have any questions or would like to receive more information. We will get back to you as soon as we can. We look forward to hearing from you!